Copywriting and online journalism
Don't have a print-ready source text yet?
If need be, I will gladly draft entire lines of argument.
From features to benefits to advantages. Specifically: brief me in English, German or French and I will prep the German copy. Address your end customers directly with tailored content.
Add top texts to your brand and image marketing.
Marketing and PR content
Need a brilliant idea for your employee magazine? A new approach for your newsletter? Or a press release prepped by a pro?
As your external concept and copy supplier,
I contribute my full creative power – for articles and press releases that the intended audience really will read.
Appealing PR texts grab the attention of relevant journalists and editors. This portrays your brand in a positive light in trade media.
Cross-media editing
Want to fill your new blog with juicy content to attract new business? I serve your readers content in bite-sized morsels. I conduct research in all of my working languages. The perfectly polished final product is then available in German, my mother tongue. Which format are you interested in?
Information-oriented: notifications, messages, reports, features, profiles and interviews
Opinion-oriented: commentaries, critiques, service texts, blog posts and magazine articles
Blog post, story board, podcast or image video: I'll pull out all the stops for you.
Bundle Highlight 3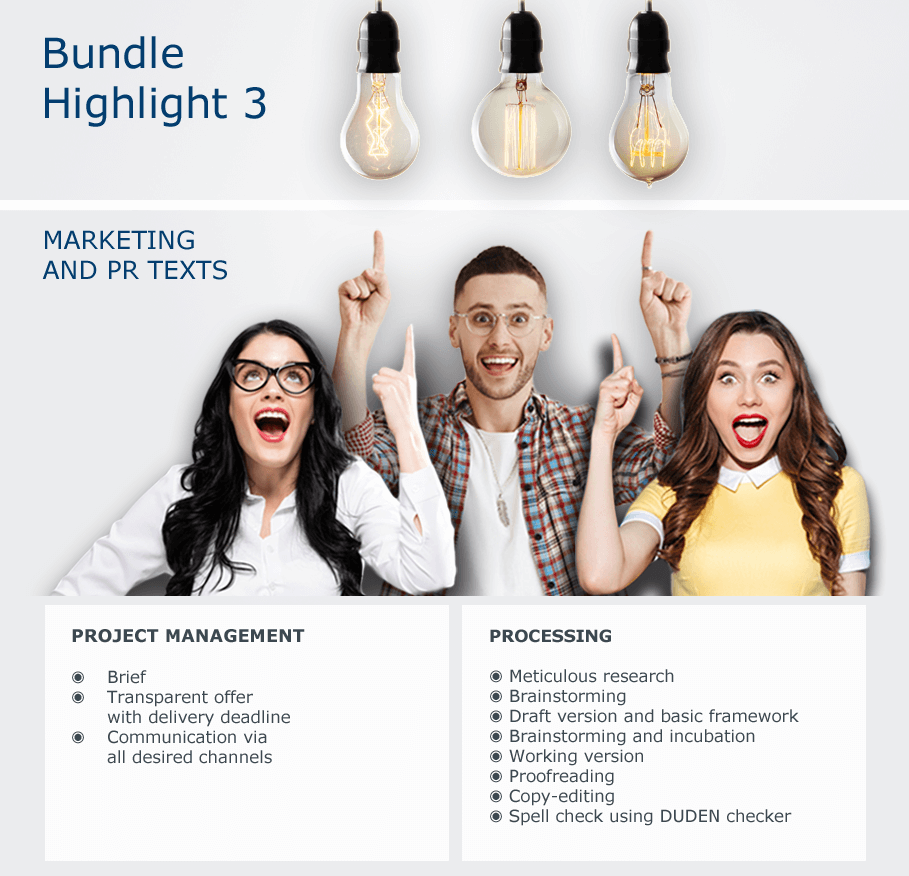 | | |
| --- | --- |
| COPYWRITING AND EDITING: Blog posts, brochures, contents, magazine articles, mailings, newsletters, presentations, press releases, product catalogues, service texts, websites, etc. | €350 per standard page* |
| BASE RATE: Hourly rate for briefing, project work, research and copywriting | €90 per hour |
*One standard page = 1,500 characters including spaces = 30 lines
Blast into new markets with confidence. With me leading the way, cut elegantly through the language and cultural barriers. And immediately impress a whole new audience.